Choose the #1 Dumpster Rental Sullivan IN Has to Offer!
If you're on the hunt for the best dumpster rental Sullivan IN can provide, look no further than the top-notch services and selections from your neighborhood waste removal company, JBL Disposal! With industry knowledge and an excellent customer service team available to guide you through the process, we make removing junk and unwanted waste as effortless and streamlined as possible.

We're happy to offer delivery in Sullivan, Indiana, and the surrounding areas of Greene County. We strive to exceed our customers' expectations, no matter how big or small their upcoming project is, by offering guaranteed on-time delivery, competitive pricing, and versatile sizing options that meet the needs of residential and commercial goals of all varieties. Book the dumpster rental Sullivan IN trusts most to complete your project with peace of mind and the added support of our friendly team.

Scheduling a delivery is stress-free and simple with our state-of-the-art online booking system. Just browse our available options for a dumpster rental Sullivan IN uses year-round, add the appropriate bin to your cart, and check out with confidence using our secure system and any major credit card. No matter what your goals are for your upcoming waste removal project, we're here to help each step of the way. If you have any questions, don't hesitate to give us a call at (812) 870-4071 today!
We Take Just About Everything
Some examples of the junk we haul away include:
Garbage Removal

Mattress Disposal

Foreclosure Clean Outs
Construction Waste Removal

Yard Waste Removal

Trash Removal
Furniture Removal

Hot Tub Disposal

Appliance Removal
Use the Dumpster Rental Sullivan Residents and Businesses Trust to Complete Your Waste Disposal
With the help of a reliable dumpster rental Sullivan business owners, property managers, and residents can depend on, you'll be well on your way to removing any unwanted junk, bulky materials, or garbage in one fell swoop. Our customers' waste disposal projects range in scale and scope, from small garage cleanouts to large commercial demolitions and everything in between. Whether you're planning seasonal cleaning for your home or managing a large-scale housing development project, we offer the sizes and selections that will help you manage waste and keep your work site safe in a cost-effective and convenient manner.

As a locally owned and operated company, we take pride in implementing environmentally conscious practices by partnering with the Sycamore Ridge Landfill to ethically and responsibly dispose of waste. When you work with JBL Disposal, you can rest assured that we're removing garbage and junk as safely and sustainably as possible. Book the dumpster rental Sullivan can count on using our online booking system today!

Cost-Effective Residential Dumpster Rental in Sullivan Indiana
Take advantage of our dumpster rental in Sullivan Indiana to complete your residential repair, remodel, or cleanout in a timely and reasonably-priced fashion. Homeowners use our bins to help support kitchen remodels, flooring removal, garage cleanouts, furniture replacement, downsizing, roofing repairs, residential demolitions, and other projects. Whether you're decluttering the attic, cleaning up after an estate sale, or beginning a fun DIY home improvement project in your master bedroom, we're positive our team will benefit your project and help you reach your goals quickly and efficiently.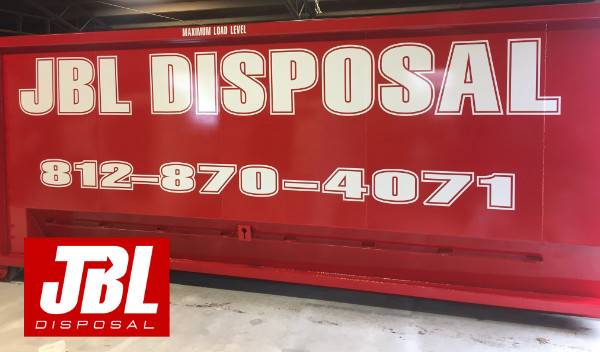 Dumpster Rental in Sullivan for Yard Waste and Outdoor Work
Increase your curb appeal with a dumpster rental in Sullivan that's easy to load and driveway-friendly, allowing you to get rid of excess brush, unwanted tree limbs, and bulky outdoor materials that no longer serve a purpose. Whether you're demolishing a shed or redesigning the landscaping of a commercial office building, we carry the container options that will help you complete your job with ease.

If you need a small dumpster rental Sullivan IN residents and businesses depend on for a lower maintenance yard cleanout or patio removal, our 10-yard option is a great fit. If you're starting a larger-scale seasonal cleanup or ongoing grounds work for a commercial client, we've got you covered. Browse our available rental options and dispose of lumber, stumps, brush, outdoor furniture, bulky materials, and more in a hassle-free, budget-friendly manner.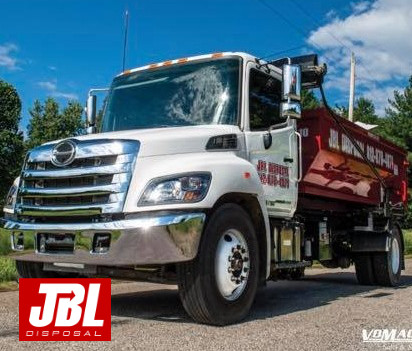 Trash Dumpster Rental Sullivan Business Owners Can Count On
Use the trash dumpster rental Sullivan business owners trust to keep waste contained and out of the way from the professionals at JBL Disposal! We regularly partner with apartment complexes, office parks, government buildings, banks, factories, warehouses, and other commercial enterprises seeking reliable and reasonably-priced waste removal services.

If you're searching for the best trash dumpster rental Sullivan 10 yards option for your business, we have versatile sizing options that work well in completing a wide range of waste removal projects, like foreclosures, office park cleanouts, regular trash removal, and more. Many of our customers want to know how much for roll off container for trash in Sullivan. We offer options beginning at $280. Choose from our 10-yard, 20-yard, or 30-yard options, and book online today!

Budget Dumpster Rental Sullivan IN Contractors and Developers Pick First
Book the budget dumpster rental Sullivan IN contractors and construction professionals count on to get the job done right the first time around. Our construction bins are equipped to handle all types of construction and demolition debris, including drywall, wood, concrete, paneling, plastic, piping, and more. We offer flexible rental periods and competitive pricing, so you can get the waste management solution you need without breaking the bank, allowing you to stay on track and under budget in the process.

Whether you're leading a new housing addition or a full-scale office park renovation, we have options for a budget dumpster rental Sullivan, IN depends on for top-quality bins at affordable rates. We regularly partner with construction companies because we offer workable scheduling options, on-time delivery, and durable bins that contain and haul away a wide variety of unwanted materials. Learn more about our company or book a rental online today!
Durable Roll Off Dumpster Rental in Sullivan IN for Roofing Projects
Roofers use our versatile, industry-grade options for a dumpster rental in Sullivan IN to complete a range of projects, including repairs and replacements. Whether you're managing a commercial roof replacement or repairing a rental property after a storm, we're confident our easy-to-load, heavy-duty options will help you clear the waste in a cost-effective and convenient way.

Our selection of roll off containers Sullivan IN roofers can trust consists of 10, 20, and 30-yard bins, available for as little or as long as you need them.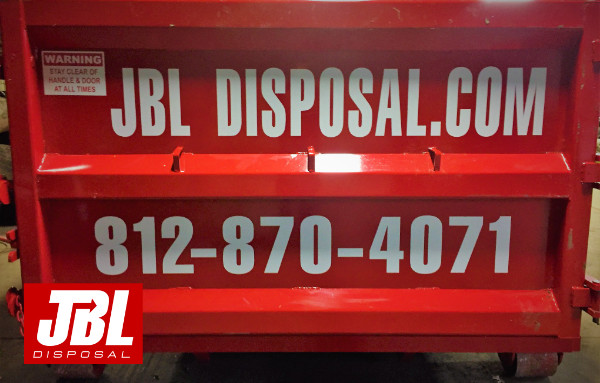 We understand that the demands of a work site change regularly, which is why we offer flexible scheduling and quick pick-up. Our containers can safely contain and transport tile, shingles, asphalt, lumber, and other materials in a hassle-free manner.
How to Book a Sullivan IN Dumpster Rental Online
It's easier than ever to schedule a Sullivan IN dumpster rental in a few easy clicks with the help of our convenient online booking tool. Look through our sizing guide to learn more about which bin will be most conducive to your specific project goals, add it to your cart, and check out. That's it! If you have any questions along the way, don't hesitate to give our team a call at (812) 870-4071 to schedule a delivery over the phone.

1) Follow the steps below to rent a dumpster Sullivan IN counts on using our website:
2) From any page of our website, click the red "Book Now" button in the top right corner.
3) View our dumpster sizes and prices, and choose the best fit for your project before clicking the red "Book Now" button next to the price.
4) Review important details like dimensions, rental time period, description, and any potential additional charges before clicking the red "Add To Cart" button.
5) Click the "Choose Date" button to select your desired drop-off and pick-up dates.
6) Review your cart and click the red "Checkout" button.
7) Input important details, including contact, billing, dumpster placement, and miscellaneous information before digitally signing the rental agreement and clicking the red "Continue" button.
8) Submit payment using any major credit card.

Once payment has been submitted, you'll receive a confirmation email from our team, including a digital copy of your receipt and the signed rental agreement for your records. One of the JBL Disposal crew members will be in touch to confirm a drop-off window that works best for you. If you have any questions about booking the ​​dumpster-rental-Sullivan-IN depends on most, get in touch with our team today to get started.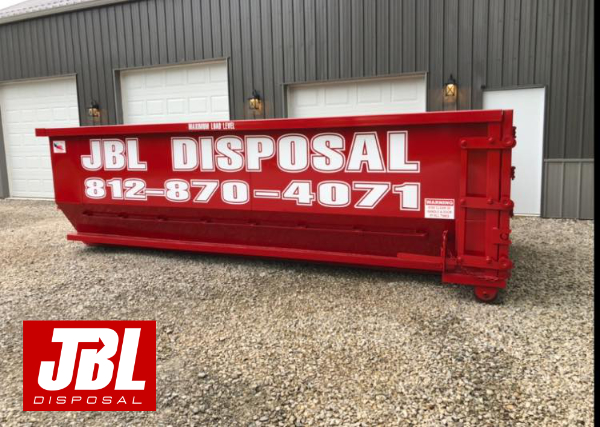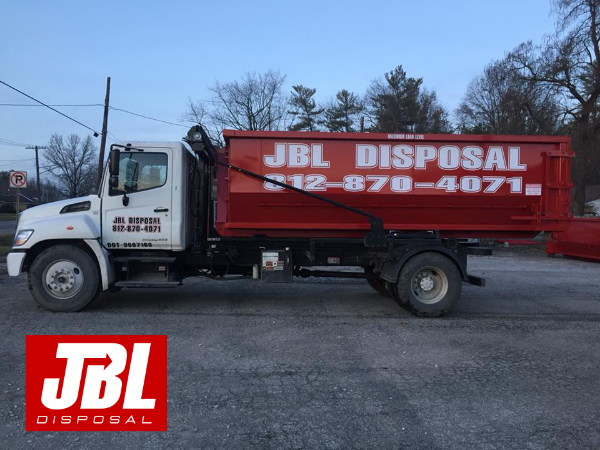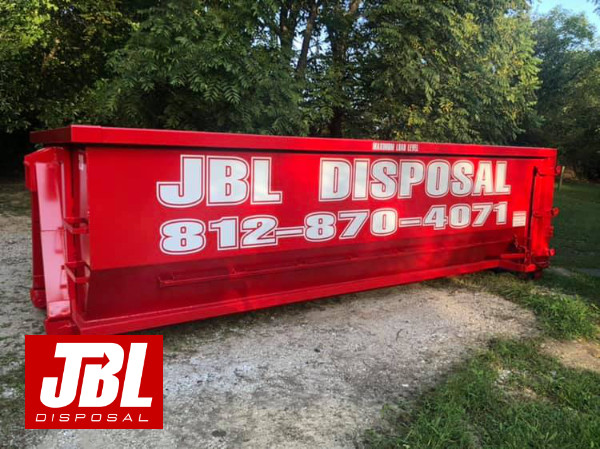 Versatile Sizes and Reasonable Prices for a Dumpster to Use in Sullivan
JBL Disposal carries a range of options for a dumpster to use in Sullivan, ranging in sizes and prices to meet the needs of residential and commercial waste removal projects. Take a look at our sizing guide below and rent a dumpster Sullivan can depend on to keep your work site waste-free and on track.

10-Yard: Our smallest bin measures 14' long by 8' wide by 4' high and begins at $280 for up to seven days or $315 for up to 14 days with two tons of waste disposal included in the base price. This size holds the equivalent of five pickup truck loads of waste. Our 10 yard dumpster rental in Sullivan Indiana is ideal for smaller residential remodeling jobs, garage cleanouts, and small roofing repairs.

20-Yard: Measuring 18' long by 8' wide by 5' high, our medium-sized bin begins at $380 for up to seven days of rental time or $415 for 14 days, with three tons of waste disposal included in the base price. This size holds the equivalent of 10 pickup truck loads of material and is ideal for remodeling and construction debris, cleaning out two-car garages, and downsizing bulky items before a move, among other things. We offer the most cost-effective dumpster rental prices Sullivan has to offer!

30-Yard: Our largest bin measures 18' long by 8' wide by 8' high and begins at $440 for up to seven days or $465 for up to 14 days, with five tons of waste disposal included in the base price. The 30 yard dumpster rental Sullivan Indiana can depend on is often used for heavy-duty waste cleanup, including construction debris, hoarding cleanouts, foreclosures, demolitions, and more.

We understand that repairs, remodels, cleanouts, and other efforts can be unpredictable, which is why we do our best to accommodate your schedule and specific waste removal needs. Additional rental days are available for $15 per day, and extra weight is available at $60 per ton. We make it as simple as possible to order a dumpster in Sullivan Indiana and offer reasonably-priced solutions for all of your short- or long-term waste management goals. Give our team a call for a custom quote tailored to your rental needs today!

Delivering the Dumpster Rental Sullivan Indiana Trusts to Surrounding Areas
We deliver the dumpster rental Sullivan Indiana can count on to a wide range of surrounding areas in Sullivan County, including the 47882 zip code. Our service cities include Terre Haute, Linton, Bedford, Bloomington, Vincennes, and Sullivan. If you don't see your zip code or city listed, contact our team to see if delivery can be arranged. We can typically accommodate needs outside of our listed region for an additional minimal service fee.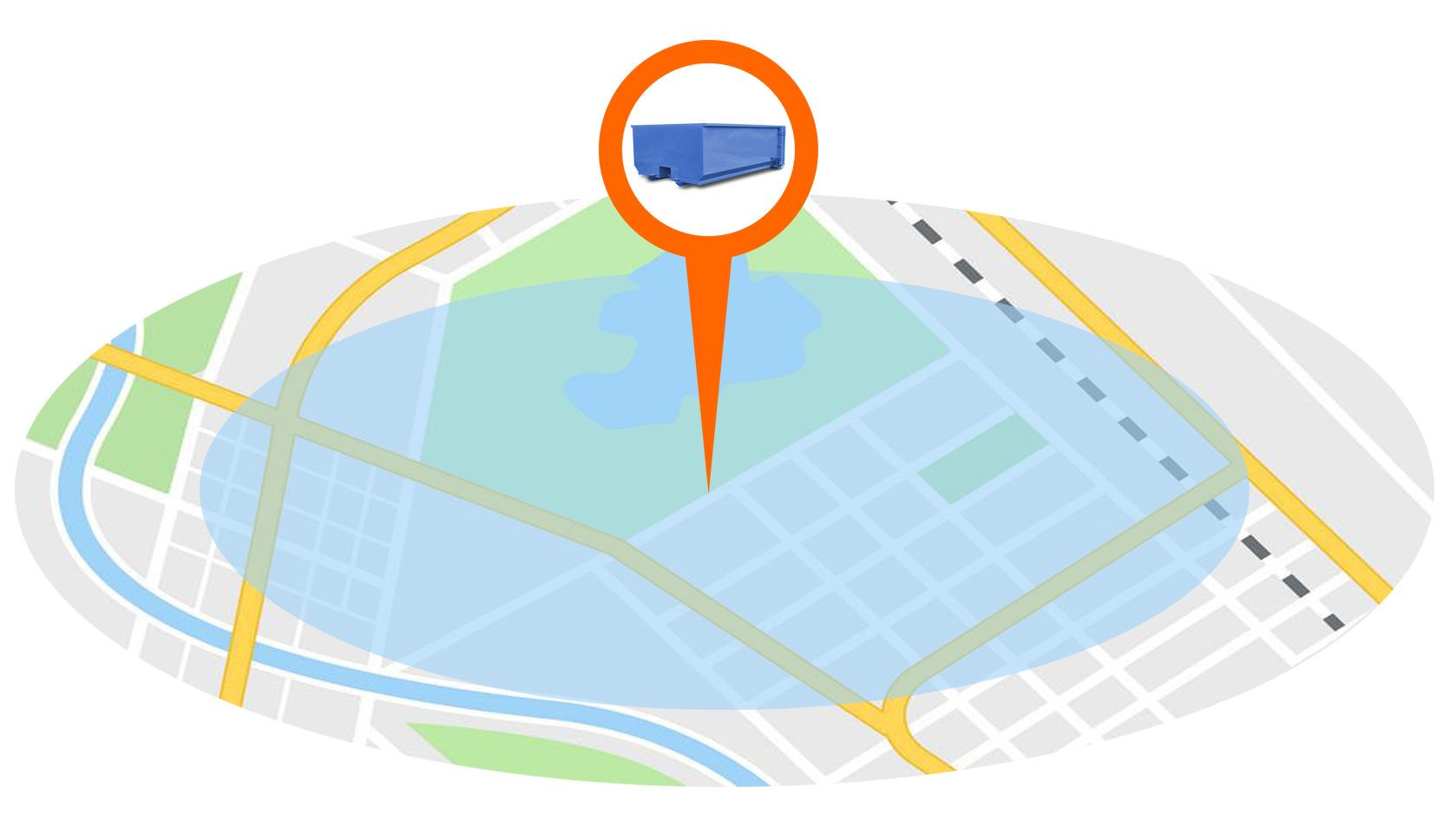 As a locally owned and operated business, we strive to build long-lasting relationships with our customers, which include other local businesses, government offices, and the Southwest School Corporation. Whatever your temporary or ongoing waste disposal needs are, our team of professionals is available to guide you through the process and deliver an affordable dumpster Sullivan IN can count on to keep our city waste-free while keeping your project on track. Our mission is to play a significant role in keeping our communities clean and enjoyable places to live by providing the dumpster rental Sullivan Indiana trusts most. Schedule your delivery online with a few simple steps today!
View Service Area
FAQs About the Best Dumpster Sullivan IN Has to Offer
If you have questions about booking the #1 dumpster Sullivan IN has to offer, we have answers! Take a look at our FAQs below and get in touch with us by giving us a call at (812) 870-4071 or by submitting the inquiry form on our "Contact Us" page, and our team will be happy to provide more information.
Q.
How much does renting a dumpster cost?
A.
Depending on the size of the bin, rental time period, amount of waste being collected, and your delivery area, our prices begin at $280 and go up from there. If you've been wondering how much is it to rent a small dumpster in Sullivan IN, we're happy to offer a range of sizes and prices that are suitable for most budgets. Our 10-yard begins at $280 for a 7-day rental or $315 for a 14-day rental. We understand you might be asking what are the prices of renting a dumpster in Sullivan Indiana, which is why we offer transparent pricing with our online booking tool. You'll know from the very beginning how much you'll be charged and if any overage, delivery, or waste-type fees will be incurred. If you have any questions about our pricing model or would like a custom quote for your specific job, give our team a call.
Q.
Do you deliver to my city?
A.
We're proud to offer delivery to a broad range of communities in Indiana, including the cities of Sullivan, Sullivan, Sullivan, Bloomington, Vincennes, Sullivan, Spencer, and Sullivan, among others. If you're searching for a dumpster rental near Sullivan IN, we're the top choice. Let us know if you're seeking services outside of the listed region, as we can often make delivery arrangements for a minimal delivery fee.
Q.
What size bin do I need to complete my project?
A.
If you're looking for a high-quality dumpster Sullivan IN homeowners, businesses, and property managers depend on to help them clear the waste, you're in the right place. We offer a range of sizes from 10 yards to 30 yards to support our customers' various residential and commercial waste removal projects. Our 10-yard holds five pickup truck loads of material, while our 30-yard holds 15 pickup truck loads of waste. If you'd like to discuss your options and allow our professionals to help walk you through the process, give us a call at (812) 870-4071.
What to Do and See In Sullivan, IN
Sullivan is a city teeming with activities for everyone. Our lovely parks, including the vibrant Sullivan Park and Lake and the relaxing City Park, are perfect for afternoon picnics, restorative walks, or weekend softball games. At JBL Disposal, we're dedicated to preserving these spaces for future generations through our efficient and sustainable waste management services.


The Engaging History and Landmarks of Sullivan, Indiana
Our city's history is as rich as it is engaging. From the fascinating Sullivan County Courthouse to the historic Downtown Sullivan, our past is both honored and preserved. JBL Disposal is proud to contribute to this preservation, ensuring our city remains clean and in tune with its historical charm.

Landmarks like the beautifully restored Carnegie Library and the picturesque Veterans Memorial are more than just points on a map; they represent our city's spirit and resilience. Like these cherished landmarks, JBL Disposal stands firm in its commitment to providing reliable and comprehensive waste management services to our community.


The Culinary Delights and Budding Community of Sullivan
Sullivan also boasts a tantalizing food scene. Whether it's the delicious comfort food at Kat-a-Korner Diner or the mouthwatering pizzas at Joe's Italian Food, our local restaurants have something to satisfy every palate. Behind the scenes, JBL Disposal partners with these businesses, ensuring efficient and hygienic waste disposal.

Our city's schools and churches, like Sullivan High School and the First Christian Church, are pillars of our community. JBL Disposal is honored to serve these institutions, handling their waste disposal needs so they can focus on their critical roles in educating and inspiring our residents.

Managing waste is only part of what we do at JBL Disposal. We're devoted to the well-being and vibrancy of Sullivan. If you need trustworthy, environmentally conscious waste management solutions, our team of professional, friendly experts is here to help. Join us in our mission to keep Sullivan clean, beautiful, and flourishing, one dumpster at a time!